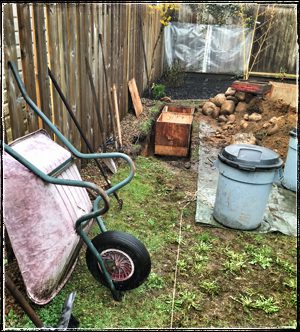 Not content with the eight hop plants I put in the ground in 2016, I decided to put in what I called Phase 2 of hop production in during 2017. I acquired a bunch of plywood from a job site close to where we lived which allowed me to build six boxes for the new area to contain the root systems of each variety and broke ground on the projects on April 13.
By this point the hops of under the Hop Shrine, Phase 1, were already starting to come up, so I knew I was getting a bit of a late start and wasn't sure what to expect from the new area I was prepping, but that didn't stop me from getting to work to dig the boxes into the ground and dig out some of the rocks that were littered everywhere in our property in North Van.
Three days later all six boxed had been dug into the ground but during the process, while attempting to remove a very large rock, I managed to fall in such a way that I landed on one of the boxes giving myself a number of rather nasty bruises. Looking back at it now, it's amazing that I stuck with the project and even more amazing that I headed out for a cruise ship performance contract only days later. I remember getting on the airplane to fly down to Florida where I was embarking on the Royal Princess and wondering how my injuries would effect my performance. By some miracle I managed to pull it all off and the boxes did end up in the ground. An absolute testament to sheer pigheadedness!
I actually had three gigs in a row in April and May starting with the Royal Princess between Florida and Portugal, then I flew up to the Festival of Fools in Belfast, Ireland then flew to Sydney Australia where I joined the Golden Princess, so between April 17 – May 11, I ended up circumnavigating the world by plane, ship, plane, ship and plane. By the time I got back it was time to plant the six rhizomes that I'd ordered from Crannóg Ales & Hop Farm and everything was set to go with Phase 2.

I ended up spending the rest of the month of May at home while my wife visited family in Japan and decided to use the time to set up posts and strings for the hops in Phase 2 to climb. The finished product looked like an interesting garden feature against the fence. Those posts, in case you're interested were 12 feet tall which I thought would be at least a 'good start' for the plants in their first year.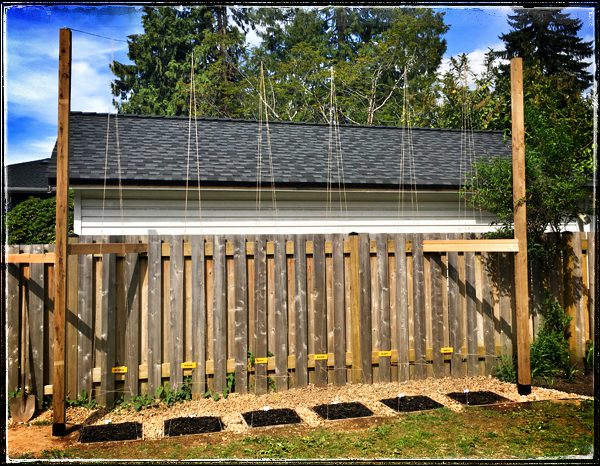 From what I had read, hops take three years to really get established, so I was amazed in 2016 when I was able to harvest some hop cones from Phase 1 at the end of the growing season. I must have lucked out with the amount of sun/shade with that first growing area, because Phase 2 just didn't seem like it was going to produce in the same way that Phase 1 had. To provide some perspective, take a look at pictures taken on August 1, 2017 of both areas. The Hop Shrine was heavy with vines and hop cones that were starting to take shape on each plant.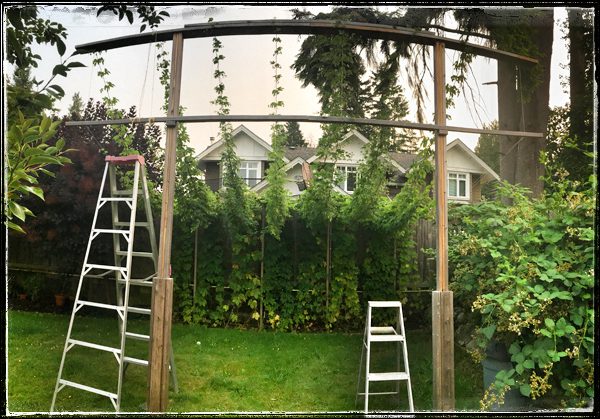 Over in Phase 2, it seems the plants are using all of their energy to develop their root balls, not vines and cones. No doubt this was because the plants pushed through the soil about two months after the plants under The Shrine, but I couldn't stop myself from thinking it also had something to do with the amount of direct sunlight each area received.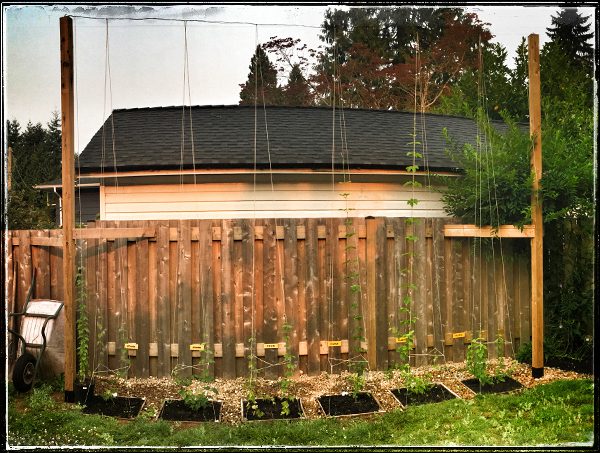 Harvesting hop cones from the Hop Shine zone started on August 21 and by September 2 I had a freezer full of dehydrated, vacuum-sealed hops.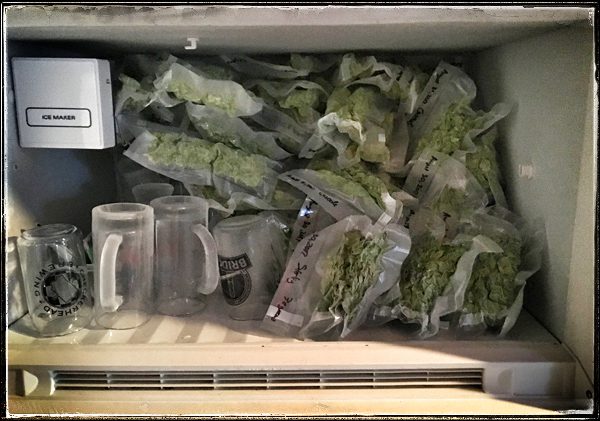 Phase 2 produced a few cones that year though not really enough to warrant harvesting. Still, I raised a glass to the beer Gods in the hopes that 2018 would be the year I got a decent harvest from Phase 2!