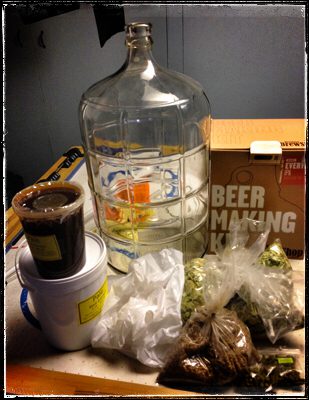 Every story has a beginning and my journey with brewing started in June of 2005 when my wife and two boys gave me a brew your own beer kit, Brooklyn Brew Shop's Everyday IPA, for Father's Day. The kit came with all the ingredients I needed to make a one gallon all-grain batch of beer with hops, yeast and a convenient one gallon glass carboy. Missing from the kit was a stock-pot big enough to do the brew, something to stir the brew and a few other bits and pieces that have found their way into my little brewery over time.
Now the reality for me in June of 2015 was I had too many other commitments on-the-go to really dive into things, so that kit sat waiting for me to give it some attention for a couple of months. Flash forward to near the end of August and I reach out to my friend and fellow juggler, Mike Battie. I knew Mike was already into brewing and figured he could help me with my first brew day and sure enough he was game.
He came over to look at what I had and what I was going to need and started to laugh when he saw the one gallon glass carboy that came with the kit. I didn't understand, so Mike quickly explained that it was pretty much the same amount of work to brew one gallon of beer as it was to brew five, so if we were going to all the trouble of brewing, we may as well brew more. Sure we'll brew up the kit you got for Father's Day, but we may as well go and get you the ingredients for a five gallon batch as well.
We set August 28th as the brew day and agreed to meet at the now defunct Dan's Home Brewing Supply Store on Hastings Street in Vancouver on the 27th to pick up the ingredients for the five gallon batch. Being very much into IPAs at the time I went for their clone recipe for Driftwood Brewing's Fat Tug which they called Chubby Jerk.
Friday, August 28, 2015… My first brew day. Mike shows up with a couple of large stock pots that we can brew in and almost immediately cracks open one of his home brews that he brought along as well and introduces me to the words of wisdom given to the world by Charlie Papazian in his book The Complete Joy of Home Brewing –
"Relax. Don't Worry. Have a homebrew."

–Charlie Papazian
We spent the next several hours running through the paces of simultaneously brewing the one gallon all-grain batch of beer that came in the kit and the five gallon extract batch I'd bought at Dan's. The day prior, my process oriented brain had asked YouTube Sensei for some advice on what I was about to get myself into and over the course of the brew day not only did I learn a ton from my buddy Mike, but apparently the learning I'd done via YouTube also informed him of a few things as well. So it ended up being a learning experience for both of us and by early afternoon we were pitching yeast into two very different sized fermenters.
It would be weeks until those first batches got put into bottles and a couple more weeks before I got to enjoy the fruits of our labour, but right from the get-go, there was something about 'The Process' of brewing that checked off so many boxes for me. I loved, though didn't fully understand, the art and the science of brewing and I knew that this was going to be the first of many many more brew days to come.