It might have been something we picked up off of Japanese television – we were going over to Japan a lot at the time – or it might have been something we just stumbled across, I don't really remember; but when our younger son, Owen, was just a toddler we started calling him OP (as in Oh-Pee).
I felt a certain affinity to our younger son because I too was a second son, but beyond that connection, we quite often viewed the world through completely different lenses. As my wife told me once, every relationship needs a Sun and a Moon to balance things out. She claims that I'm a Sun-type and she's a Moon-type and I think Owen's a bit of a Moon-type as well.
I remember going to Japan in the Spring of 2007. We took our kids out of school in Canada right, as March break was starting, and took them to Japan so they could have the experience of attending the same school my wife attended when she was a little girl. Owen was 6 and going into grade one. There are lots of cool things about how elementary schools operate in Japan, but what I loved, and what Owen seemed to love too, was that kids are encouraged to be responsible for themselves which harboured a great sense of independence. At 8:15 every morning a group of kids met on the corner and lead by the students in the older grades, they all walked to school together. No need for parents, the kids looked after themselves. Owen thrived in this environment and to this day has very fond memories of his time in Japan.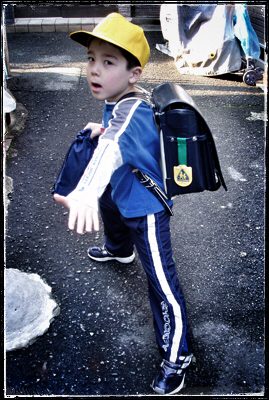 During his high school career, Owen's gifts as an entertainer really started to shine. He followed in his older brother's footsteps and was fully engaged with the dance program at his high school and, all parental bias aside, he seemed to shine brightest whenever he was on stage. He had the ability to draw the eye and deliver, especially when put under a spotlight. In his final year in the program he took things to the next level by delivering an original rap performance that blew the roof off the theatre. His vision as an artist and performer are quite possibly his greatest assets and it blows me away ever time I've seen him bust a move or pick up a mic to spit some wicked rhymes.
In the year after his high school graduation he released his first EP 'Little Fish' on iTunes under the stage-name Blaike and continues to discover his voice as a musician and entertainer. What the future holds for him is anyone's guess. There's no question that he's enormously talented and when he discovers the right platform he will most certainly deliver!
So what sort of beer did I craft for our second son… Well the inspiration came from the nickname he had as a toddler… OP became Orange peel and Pepper corns. These two ingredients seemed particularly well suited to a Belgian-style Saison so I did a bunch of research, formulated a recipe and started brewing. The result? A wonderfully complex beer with a hit of citrus and spice that delivers a substantial 6.2% alcohol content without feeling boozy at all. It's big, it's powerful, it's ready to take the world by storm just like the guy who inspired it!
"Maybe I don't get it just yet. Maybe I'm a couple steps ahead. Complicated all the things that we hold dearly. All will pass you cannot fight the feeling."

–Blaike (aka Owen Aiken, aka OP)