I've had so much great feedback about the labels that grace the beers I produce. I feel exceptionally lucky to be working with the enormously talented Rachel Peters on the labels that have been produced to date. She just – GETS IT!
A big part of why she understands what I'm after is because she knows and loves the people and community that I'm tributing with the beers I'm making because she's been a part of that community for years. I believe our first in-person connection was at the 2008 Kingston Buskers Rendezvous. I was there performing (my ninth time at the festival) and she was there creating an amazing chalk art piece that featured yours truly. I immediately LOVED her work and how connected she felt to the street theatre community. The work she did with Lee Zimmerman and Martin Ewen on Martin's story 'Nagasaki Circus' is a fantastic example of her talent, vision and dedication to getting it right.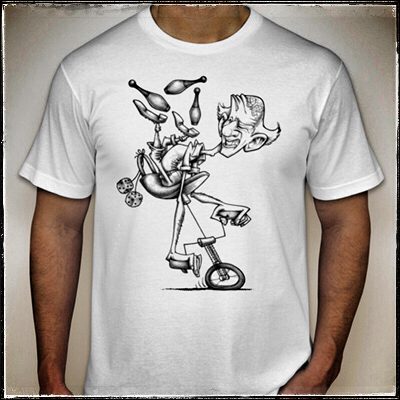 When I started the Stories from the Pitch Project, a podcast dedicated to creating a living oral history about street performing and some of the crazy characters that populate this world, she let us use an illustration of co-fonder, Robert Nelson as the design for one of the two t-shirts we created. This design eventually got repurposed for the label of Robert's tribute beer, Steaming Butterfly California Common. She also sculpted an incredible piece that we hoped to have bronzed and tributing those inducted into the Busker Hall of Fame.
Flash forward to 2017's Port Credit Busking Festival and I'm delighted that Rachel is hanging out taking in the festival and contributing her energy to the scene. At that point we'd bounced the idea around of having her create a label or two for the beers I'd been making, but I felt like it was connecting at that festival that was somewhat turning point in the journey. We messaged back and forth a bit in the coming months and then at the end of November she tackled the first of the labels, the tribute beer to Toni Smith – Minnie Maniac Coconut Blonde. The first label was the one when we established some of the design parameters, the square working canvas and postage stamp feel, the fonts choices and placement of some of the regular label feature text. This first one took the longest I think as I had an idea of what I wanted, but it wasn't until she presented something that I was able to ask for tweaks and changes. Once certain parameters were set, the process for subsequent labels was a lot easier… Here's sort of how it works – we'll use the label for my Checkerweizen as the example.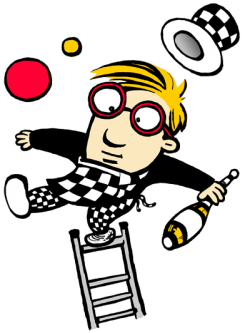 Rachel will let me that she's got time to work on a label and I'll send her a few ideas… For the Checkerweizen label I said I wanted to be on top of my free-standing ladder and sent her a cartoon that Yo-Yo Wizard John Higby had done of me as an example of someone else's interpretation of what that could look like. I also said that I wanted there to be wheat featured on the label as wheat is the primary grain used in this beer and I wanted there to be bananas included as well. Why bananas? Well the specific yeast used for this beer is said to produce notes of banana and as bananas are such an iconic symbol of slapstick comedy, it just seemed like a perfect fit. OH, and some black and white checkers…that was important too as it's been the pattern I've used in my costume for over thirty years.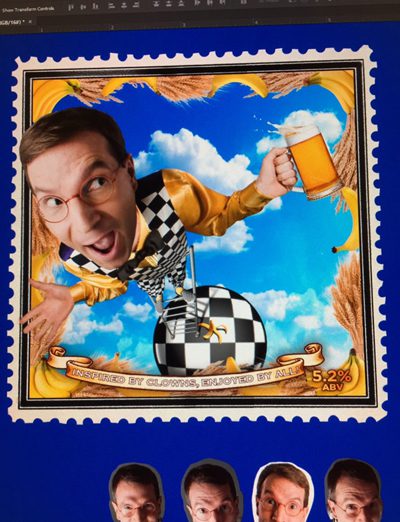 A few days later I get a sample image to make sure I'm happy with the direction things are headed in what I like to refer to as Round 1 of the design process. OMG – YES! The direction is perfect! Over the course of the next few days, we bounce a few ideas back and forth and we go through a few more rounds of tweaks…
Put me in my black stage pants
Change the glass to a Weizen Beer Glass and make is a lot bigger
Change the Checkerboard Globe to a real globe and have me standing on top of Germany, the origin of the style
Add the 'Checker Weizen' text and checkerboard pattern to the glass.
I make these asks and Rachel makes the magic happen. This has been the process with each of the labels. Each has elements that are specific to the performer and the beer being represented. Each beer I make tells a story and each label captures elements of that story. Wanna hear more? Swing by the brewery for a pint and I'll tell you some of my favorite stories about the performer on the bottle you're enjoying.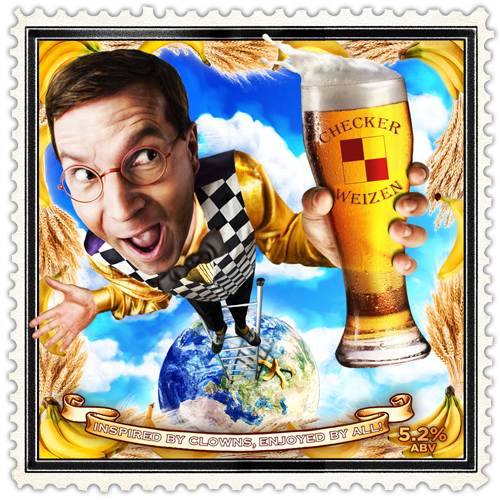 To find out more about Rachel point your browers to the following links:

https://rachelpeters.com
Facebook
Instagram