I have a theory that there are Entertainers and there are Artists. Certainly Entertainers can present their craft in an artistic way and Artists can be entirely entertaining, but here's the rub… Entertainers take their performance to the audience where as Artists ask the audience to come to them. From the get go I've been a people pleaser and fall much more comfortably into the camp of Entertainer. That being said, I have an incredible respect for those people I know who are genuine Artists. I consider my friend Martin to be very much an Artist.
His stilt character's name 'Lurk' sums his performance up beautifully – a stilt-wearing, whitefaces, quite dark clown who's performance is at times alarming and hilarious. He's unlike any other performer I've ever seen and makes no apologies for it. IT'S FANTASTIC!
At the beginning of 2018, Martin, who was living in Hawaii at the time, developed a rather nasty case of cancer that effected his ability to ingest food and he was basically living off of protein powder to keep himself alive. The medical profession in Hawaii didn't give him much hope and when the performance community heard of his situation, we rallied around him to raise the funds needed so he could return to the country of his birth, New Zealand.
Rachel Peters, the incredible graphic artist who creates my labels for me and the director/producer of the video for Nagasaki Circus (one of Martin's written works) reached out to see if there might be anyway that we could come up with a tribute beer for Martin so he could witness it's creation before what a lot of us though was going to be his untimely death. I suggested an ESB…an Extra Special Bitter as I though this summed up certain aspects of Martin's performance persona… Ideas were bounced around, we reached out to Martin who came up with the fantastic play on words – IN JEST (as in ingest) and provided the tag line 'Who Dares…Grins' which also sums up his approach to performance. It felt as though we were in a bit of a race against the clock to get things all together.
Luckily, in April 2018, I happened to be performing on a cruise ship that was stopping in Wellington which allowed me to connect with Martin for an informal photo shoot which provided the raw materials that Rachel needed to produce the label. At that time, it was unclear how effective the treatment he was receiving in New Zealand was going to be and whether Lurk would ever get to try the beer being made to honour his artistry.
Martin's recovery has been nothing short of remarkable and I've been delighted to get back to Wellington a few times, each time bringing him bottles (as much as my luggage will allow). Was he happy with the brew? Well, this was his review after I'd delivered the first bottle –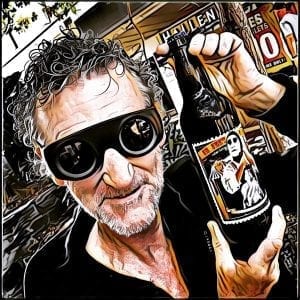 Unfortunately, given geography and a cruise ship having to be rented for the delivery and the extreme exclusivity and sublime quality of the beverage….I only drank the one bottle.

The bitterness not overweighted, more a short sharp reminder of your life's potential that fades into an almost unhealthy optimism towards the next sip. Beer connoisseurs have noted with delighted surprise that it gave them flashbacks of being slapped on the buttocks at birth.

The taste is rich, well grounded much like if peat was given a confectionary and alcoholic form. I would suspect, given it's profound and intrinsically complex nature that after a few bottles you could speak to the dead with it.

As such it's ideally suited to wakes or any other summery dismissals. Although in moderation [not recommended] it also could be apt as a cynics morning beer.